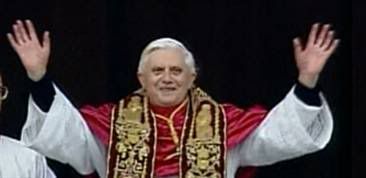 So Joseph Cardinal Ratzinger has become Pope Benedict XVI. It has been an interesting process to follow along with as an adult for the first time. I'm actually a little surprised that Ratzinger got the nod, but, of course, I had no real prior experience to base any prediction on, so maybe I shouldn't be quite so surprised that I'm surprised. (I think that's english.)
I find it amusing that Ratzinger...excuse me...
Benedict
is constantly referred to as "arch conservative" or a "hardline traditionalist." What he represents is a continuity with Vatican II, the single greatest reform council in the 2000 year history of the Catholic Church. How that makes him an "arch conservative" is beyond me. I have to believe that such labelling, by American media sources, is indicative of a baseline hostility to Catholic teachings in general. It certainly doesn't reflect the truth within the church. There are groups within the church that wish to restore the Latin mass and roll back many other changes instituted by Vatican II. Those folks might have earned an "arch conservative" label. But Ratzinger? Hardly.
To American media however,
simply believing in the tenets of the Catholic Church as they exist at this date
makes one some sort of dangerous reactionary.
Oh well...ignorance is bliss I guess.
Viva il Papa!